Our Focus
Is to engage with land managers across tenure to mitigate the threat of declared plants and animals in the Kimberley region of Western Australia.
Purpose
The Association's objectives are to -
Initiate, promote and foster the control of declared pests.
Encourage landholders and stakeholders to adopt sound biosecurity practices.
Foster the sustainable development of the Kimberley region.
Encourage the control of pests other than those declared.
What we can do for you
Kimberley Rangelands Biosecurity Association
The Kimberley Rangelands Biosecurity Association is an incorporated not for profit group and one of five formally recognised pastoral Recognised Biosecurity Groups that control the impact of pests on pastoral land across Western Australia. Other pastoral RBGs include Pilbara, Meekatharra, Carnarvon and Goldfields-Nullarbor.
The Association works with the Department of Primary Industries and Regional Development to provide the experience, ability and knowledge to roll out successful programs such as donkey, wild dog and declared weed control programs. Funding is provided through a Declared Pest Rate that is applicable to all pastoral leases, the rate is matched dollar for dollar by a State Government contribution. The Association can source additional funding through grants from funding agencies and other sources.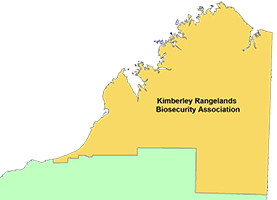 Operational Area
Shire Wyndham East Kimberley
Halls Creek Shire
Broome Shire
Shire Derby Wet Kimberley
Recognised Biosecurity Groups
The Biosecurity and Agriculture Management Act 2007 (BAM Act) enables the Minister to recognise groups as Recognised Biosecurity Groups (RBGs) for the purpose of controlling declared pests at a landscape scale across tenure. The groups provide a mechanism to enable landholders and managers to develop a coordinated approach to control and manage declared pests in their region. They are the Department of Primary Industries and Regional Development's preferred partnership arrangement for the management and control of declared pests.
RBGs replaced the Zone Control Authorities in 2010 with an adaptable model better able to deal with biosecurity issues at a landscape scale. The work they undertake is intended to add value to pest control carried out by individual landholders and is not intended to replace individual responsibilities.
Membership
The Association operates within the East Kimberley, West Kimberley, Halls Creek and Broome shires covering 420,000 square kilometres. The 97 pastoral leases in the Kimberley are all eligible for full membership.
Committee
The Association is managed by a volunteer committee comprised of eight local pastoralists and up to four associate members. The pastoral members have a three year tenure and are elected at the Annual General Meetings held in October of each year. The committee members jointly have a significant amount of experience in biosecurity issues affecting the pastoral industry and the environment across the Kimberley region.
Associate Membership is open to stakeholder groups that are actively engaged in biosecurity work in the Kimberley region. The Association is very interested in developing partnerships with organisations who have a stake in invasive species management in the Kimberley.
Committee Members
Mike Shaw (Chairperson)
Lynette (Jim) Craig (Vice Chair)
Philip Hams (Secretary)
Rick Ford (Treasurer)
Mervyn Wortley

Garth Camm

James Camp
Linda Evans
Paul Koeyers
Trent Stillman (DBCA) Associate Member
Staff