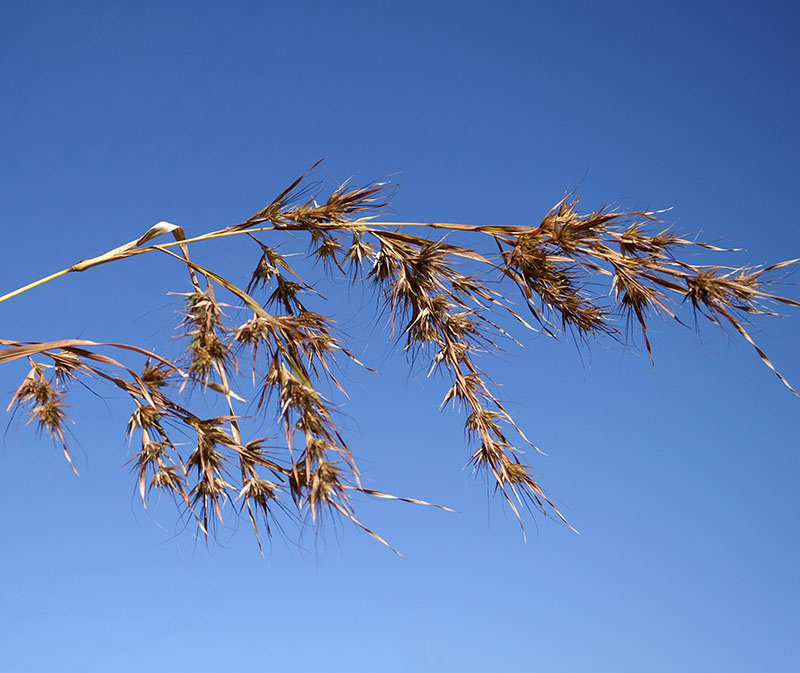 Grader grass is thought to have entered the Kimberley region relatively recently. Although it is not yet widespread across all the region it is common in parts of the North Kimberley. In particular along sections of the Gibb River, Kalumburu and Mornington Roads. Infestations range from a scattering of plants on the road verge to large swathes moving away from the road down table drains. Grader grass seeds are not adapted for dispersal by wind or water so its spread is primarily been associated with earth moving equipment and collecting seed in the radiator or under carriage. It can rapidly grow up to two metres tall, sometimes reaching full height within 6-8 weeks. Seed heads can appear within 5-6 weeks of germination but much earlier on late germinations. It generally germinates at the onset of the wet season and typically starts to seed from February through to April.
It is an undesirable species in grazing and conservation areas of Australia. It can invade both native and improved pastures and, due to its low palatability, greatly reduce animal productivity if it becomes the dominant species. It is an opportunistic invader which when established competes strongly with existing and establishing perennial grass tussocks, particularly in overgrazed and degraded pastures and disturbed areas. Because it is generally ungrazed grader grass can generate large fuel loads increasing the risk of wildfires. These impacts on ecosystems are often long-term or irreversible.
Currently the RBG is mapping as many of the known infestations as possible. This work will be ongoing over the dry season along with documenting different control strategies both in the Kimberley and the Northern Territory. The information once gathered will be made available to land managers and other stakeholder groups and could potentially influence direction of the organisation's own weed programs. This is a weed that could potentially become common across the Kimberley and if so would become a significant problem for land managers.
If you think you may have seen grader grass please contact our Field Officer Blu Gaff on 0429 171 016. Grader Grass is currently not a declared weed in the Kimberley but that may change in the future.